Every shop that sells clothes has them; mannequins. Last year there was a lot of talk about a couple of Swedish mannequins, because they actually looked like real women. But you know what? ALL mannequins used to be like that!
And I know mainly because of this little infographic. I found it on the Facebook page of 'a mighty girl' and thought it was worht sharing. Mannequins were made to show women how the clothes would look on them, and so they were made to look like regular women. But these days an average mannequin is far from an average woman. So disturbing!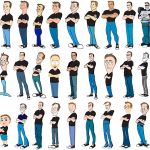 What's your opinion about mannequins? Do you think they should look more like regular women?