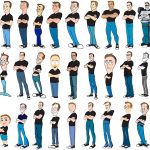 A NEW POST EVERY MONDAY, WEDNESDAY AND FRIDAY!
Hi and welcome to Pretty Different!
My name is Marit, and I started this website with a mission. I think this world is too obsessed with perfection, and I find that kinda strange. Cause, did you ever meet a perfect person? Neither did I… I think we need to start looking at people differently. Starting with me. I was born with a handicap, and so ashamed of it, because I was not perfect. Worse, I was different! Now I know that being different is just the whole thing. Being different is beautiful! I am very pretty, I am Pretty Different. And I LOVE it!
I dream of a world where different is normal. Where we are all just humans, and how we look has nothing to do with some sort of crazy ideal. A world where every person can be happy just the way they are; with one hand, or two, big or small, blind, yellow, very tall, with pink hair or … Let's be pretty different!