Yay for Robyn Lambird for being featured as a disabled model in the Target folder! 
And this is only the beginning. Robyn is such an awesome person! You should check out her Youtube channel and see for yourself. So we couldn't be more excited to see her on the pages of the newest Target folder. Go Target! And go Robyn!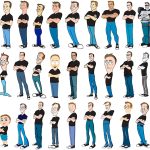 Check out the folder here. And while you're at it, share this post to show the world that we need more disabled models. Because let's be real… We can rock it just as good as any 'abled' model!