Elke van Achterberg is sixteen years old and she's a wheelchair fencer. How that works? Read it in this post!
Wheelchair fencing is a really small sport and a lot of people don't know that it consist but it is the best sport ever!
When i tell people that I am a wheelchair fencer they always ask me: but how is that possible? You can't push your wheelchair when your holding your weapon! And that's your answer: I don't push my wheelchair.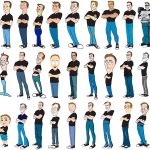 My fencing chair is standing in a frame so your chair can't move. All the movements I make are with my body. You can go forward and backward by using your body so I really need my abs. When you're a walking fencer you can walk away when your opponent is getting too close, in a wheelchair you can't and that makes it really hard. You have to be technically better then a walking fencer and your arms have to be faster and stronger.
Different categories for different disabilities
In wheelchair fencing you also have a difference in how disabled you are so it's fair to compete. There are 3 different categories A, B and C. You're in the A category when you can still make all the movements with your upper body. Your in B when you can still move your upper body but not as good as an A fencer, and in the C category you can barely move your upper body and have some problems whit the strength in your arms for example. Because of the different categories it doesn't matter what kind of disability you have. There's even a girl without both under arms and both legs and she is one of the best fencers in the world!
These are the biggest differences between wheelchair fencing and walking fencing. A lot of other things are the same, you have the same weapons and the same rules. In fencing you can use three weapons: Saber, foil and epee. One of the differences in the weapons is the target. With an epee you're allowed to hit everything accept the legs. With a foil your allowed to hit the hull so no arms, no mask and no legs. With a saber it is the same target as with the epee; everything except the legs.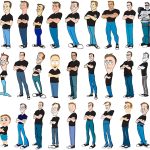 Rules for wheelchair fencing
The rules are also different with the different use of the weapons. An epee is the easiest because there are no rules, you have to hit to get a point, thats all. With the saber and foil you have some rules because you need the right to attack. When you both made a hit at the same moment, you both don't get the point, but the one who parades before the attack gets the point! It takes some time before you will understand all these rules. But these are the most important things you should know about wheelchair fencing!
My own goal is the Paralympics in Tokyo in 2020 and to get the gold medal! You can follow me on my own website.