Young girls can now play with the new Barbie game developer! 
For a long time Barbie has been known for her crazy body ideals and quite boring accomplishments. But Mattel is trying hard to change that image with the Barbie career dolls. Two years ago they failed epically with their Barbie computer engineer doll. She was dressed like Reese Witherspoon in Legally blonde (think a lot of pink) and even her computer was pink… Not a very realistic image of a computer engineer.
Barbie game developer
So this time they tried something else, and in my opinion Mattel succeeded quite well! I think the Barbie game developer doll looks pretty cool. Sure, her body is still very unrealistic (when are you changing that Mattel?), but I think it's pretty cool that young girls can now play with a doll who's got an amazing job. It's a start guys!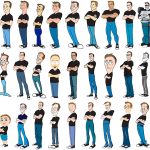 What do you think of the new Barbie doll?
Photo credits: Mattel