As summer is approaching, you will see the term 'bikini body' more and more. Women are supposed to start training and starving themselves in order to get the perfect bikini body, if that even exists! Pictures of celebrities are shown to 'motivate' us. But are those really the real bikini bodies?
Mine definitely is not. I have huge scars on my legs (you know, cellulite, like most real women have), my tummy is not rock hard and neither is my butt. If I were to believe the media I'm supposed to train like a beast to make my 'bikini body beach proof'. Say what?
Magazine covers (and the internet) are full with the same message, and I don't like it. Nobody has a 'perfect bikini body'. And why do we even want it?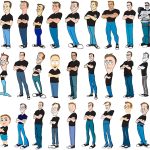 Luckily, there are some women who are proud of their real bodies. I found this really nice article at Huffingtonpost.com about REAL bikini bodies. These pictures were taken by friends or family, not professional photographers. Also, there's no Photoshop  Everything you see is real and natural. Go check it out here.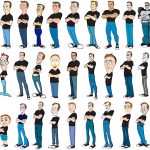 One of the beautiful ladies showing off her real bikini body.