Oh my goodness! I can't believe my eyes! A disabled model, in the new sports campaign by H&M! I just can't contain my joy!
I'm just casually scrolling through my Facebook feed, when all of a sudden I see it. A disabled model in an awesome sport outfit. But wait… These photo's are from H&M!
H&M using a disabled model in their campaign is a huge deal to me. Growing up I never saw people in magazines and media that looked like me. So for young people growing up seeing these people in mainstream media, that's a huge step! Hopefully other brands will follow soon now that H&M took a stand.
The looks are inspired by H&M's collection of sports outfits for the Olympics and Paralympics and the collection is called 'For Every Victory'. With this name H&M wants to celebrate the power of personal victories. Yay for that! And my, they look fierce!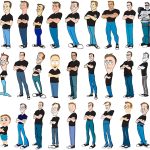 The collection will be available in stores from 21st july 2016.
Photo's: H&M